John Carter
¿Ubican al actor Dominic West? Interpretó al villano Sab Than en John Carter Entre dos mundos, aunque también es conocido por Hannibal: El origen del mal y la serie de TV The Wire.
Centurión
En entrevista con el
Huffington Post
, West reconoció que rechazó un importante papel en la serie
Game of Thrones
debido a que
no conoce la saga
de novelas
Canción de hielo y fuego
ni la adaptación televisiva.
Punisher - War Zone
"Me ofrecieron algo en Game of Thrones, y desafortunadamente no la había visto", dijo West. "Cuando mi sobrino y su padre me dijeron '¡Dios mío, Game of Thrones es el show más grande!', me sentí terrible, porque justo acababa de rechazarlo".
The Wire
Aunque el actor inglés no recuerda el nombre del papel ofrecido, la fuente indica que pudo tratarse de
Mance Rayder, el Rey más allá del muro
(también conocido como el Rey de los salvajes).
Recogiendo el Bafta
De todos modos –y aunque asegura que se arrepentirá de esta decisión– West dice que la razón principal de esta negativa es su familia: "Tengo cuatro hijos", dice. "Eso me hace ser renuente a alejarme durante mucho tiempo. Puedo conseguir mucho trabajo en Londres y de todos modos regresar a mi casa. Esa es una de las cosas más brillantes de The Hour (serie en la que participa actualmente)".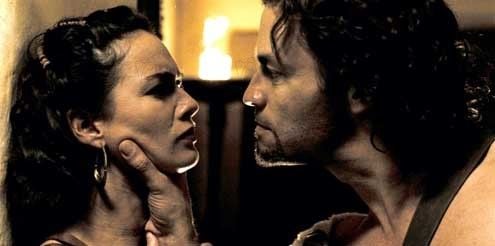 Con Lena Headey en 300
De haber aceptado, Dominc West tendría que haber pasado seis meses en Reikiavik, Islandia.